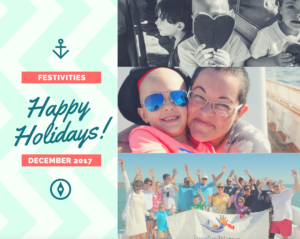 December Newsletter 2017 –
December 22nd, 2017
AHOY FRIEND
Happy Holidays to you and your family,
I am so pleased to say that we have had a record year in providing therapeutic on the water experiences for our participants.  I am so grateful for all the donors, Board members, volunteers and staff that have made it possible.
Caring, Loving Kindness on and off the Water…we beat last year's records –
2017 Accomplishments and much due to you sharing your support:
Provided more than 2500 on the water experiences for individuals with special needs/veterans
78 boat owners donated the use of their vessels to provide FWF programs
Over 100 events – fishing, sailing, cruising, kayaking and more.
Individuals served all over South Florida – Collier, Lee, Broward, Palm Beach, Manatee Counties and growing
Hired two new Program Coordinators – one in Broward County, Chelsey Villareal and one in Palm Beach County, Lori Griffith
Have two new Board Members – Patty Luppy of Fine Mark Bank and Pete Peterson of Naples Yacht Brokerage
Adaptive Sailing Program with Collier County Parks and Recreation is growing strong for our 12th year of partnership.
Thank you all. May 2018 bring you joy, good health, shared love and lots of goodness
All my best and behalf of all the Freedom Waters Foundation Family – Happy Holidays and Happy New Year!
Debra Frenkel, LCSW
Executive Director/Founder
Interested in joining our team? Contact Us today and start making a difference!