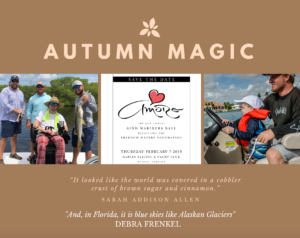 Fall into Fun with Us! – September 2018 –
Sep 25, 2018
AHOY FRIEND
Lots of goodness to share – past and upcoming:
Boat outings were abundant all summer. Enjoy the photos! See who you might know.  Photos Here
Programming is booming on both coasts of South Florida.
Gearing up for the Kind Mariners Ball – AMORE – February 7, 2019
Marketing committee has expanded and lots of creativity is going on.
Internal technological development are making us more efficient.
Lots more within this newsletter.
Thank you for being part of the FWF family,
Debra Frenkel, LCSW
Executive Director/Founder
Interested in joining our team? Contact Us today and start making a difference!